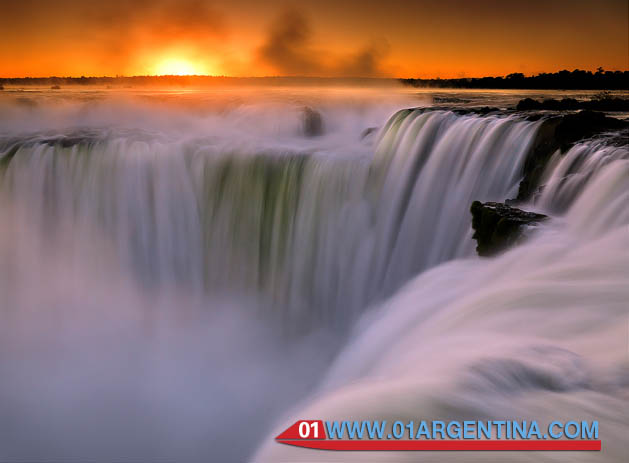 "A unique show in the world that deserves to be seen."
In any of the four seasons and from dusk until late at night, the moon surprises with its color change as it reaches its fullness. Iguazú Argentina invites you to an event that falls ever more people, and proposes a night tour starting at Central Station to board the Rainforest Ecological Train bound for the balcony Devil's Throat.
In contemplation of the jumps in the silvery light of the full moon, time stops, words are no longer necessary, and one is reluctant to return from there.
The fascination of the night walk on visitors is extraordinary: there are those who seek to get the most out of the bathroom of the Moon indulging in meditation, others renew their commitments of love there and there are those who spill some tears of emotion to the fabulous show of the waterfalls in full moon nights.
But the moon again guide the walk back to the Rainforest Ecological Train to arrive at the Central Station and from there, head to the restaurant La Selva, where complimentary cocktail for every visitor is provided.
CONDITIONS TO CONSIDER
1. To access the rides should make a reservation and confirm the payment thereof. All children under 6 years, even if not paid, must be declared anyway at the time of booking, thus occupying a seat and must be covered by insurance.
2. Must bring comfortable shoes and clothing. If you wish, you can bring an extra set if the mist wets her dress.
3. The rides are not water excursions. Iguazú Argentina NO provides shuttle service between the city and the National Park.
4. Conducting Full Moon Walks is subject to good weather conditions. Field trips may be canceled when weather or security conditions are not met. Such termination could occur even if visitors have already reached the park.
5. With the cancellation of the tour due to weather, corresponds to 100% refund of the amount paid with the same payment method used.
6. Cancellation by the contractor for personal reasons not get refund if not done at least 48 hours prior to the date of the booked and confirmed ride.
7. The cancellation of the tour does not occur in any circumstances reimbursement of transportation expenses to and from the National Park.
8. The rescheduling a canceled reservation is not automatic. You. You should contact us to set the date and turn again.
Full moon calendar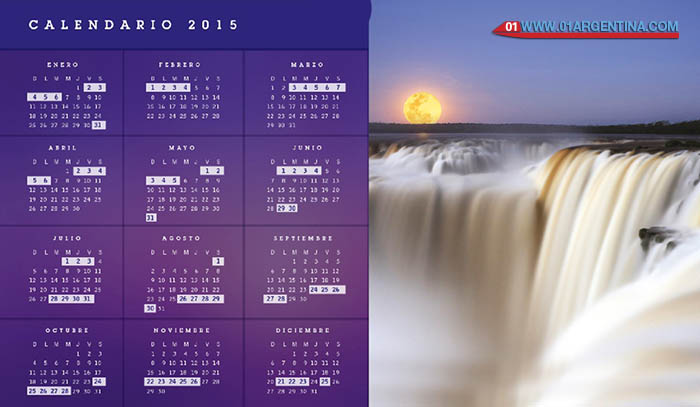 HOURS
For the First Time of Trip:
• Exit 18: 50hs from Hito Tres Fronteras. Arrival at Park 19: 30h
• Exit 19: 10hs from Hito Tres Fronteras. Arrival at Park 19: 40hs
For the Second Time of Trip:
• Exit 19: 30hs from Hito Tres Fronteras. Arrival at Park 20: 10hs
For the Third Time the Paseo:
• Exit 20: 20 pm from the Hito Tres Fronteras. Arrival at Park 21: 00hs
Returns from the park to the city:
• 22: 30hs
• 23: 30hs
• 00: 30hs