The Wonder of Nature Awaits You
Iguazu Falls, a UNESCO World Heritage site, is an experience that transcends the average tourist attraction. Nestled on the border between Argentina and Brazil, this natural wonder is one of the most awe-inspiring places on Earth. Yet, the experience can be greatly enhanced when you choose the right travel agency. That's where 01Argentina comes into play. With an array of all-inclusive packages, great prices, and personalized services, 01Argentina ensures that your Iguazu Falls trip is memorable for all the right reasons.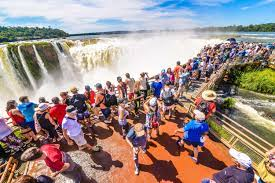 Why Visit Iguazu Falls?
The simple answer: it's breathtaking. The falls are a majestic tapestry of 275 cascades that stretch nearly 3 kilometers wide and drop more than 80 meters into a misty abyss. It's nature at its finest—untamed and overwhelming. Whether it's the roar of the falls, the mist in your face, or the sight of a rainbow arching across the cascades, the sensory overload is part of the allure.
Breathtaking Scenic Beauty
The panoramic vistas are postcard-worthy from every angle. There are various pathways and viewpoints to ensure that you get the best views, from the Devil's Throat to the Lower Circuit and Upper Circuit trails. Each vantage point offers a different perspective of this natural marvel.
Unique Eco-System
The national park surrounding the falls is home to a rich and varied ecosystem. Tropical plants, unique birds like toucans, and even elusive wildlife such as jaguars make this park a bio-diverse paradise.
Adventure Activities
Apart from viewing the falls, the park offers a variety of adventurous activities like boat rides under the falls, hiking, and even helicopter rides for those who want a bird's-eye view of the natural wonder.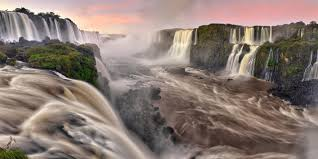 Why Choose 01Argentina Travel Agency?
All-Inclusive Packages
One of the standout features of booking with 01Argentina is the all-inclusive nature of the packages offered. With a standard 3-day and 2-night package, your flights, accommodation, guided tours, and often meals are taken care of. You can explore the Argentine side of the falls in depth, beginning your day as early as 8 AM to make the most of your time.
Great Prices
When you book with 01Argentina, you're not just getting quality; you're also getting value. The prices are highly competitive, ensuring that you get the most bang for your buck. Moreover, the agency often has special offers and discounts to make your trip even more cost-effective.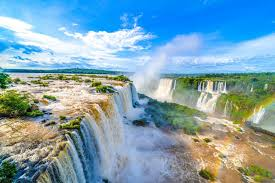 Personalized Service
What sets 01Argentina apart is the personalized service. Whether you opt for a group tour or a private service with an English-speaking guide, the focus is on creating a personalized experience that meets your needs. The staff is knowledgeable, friendly, and eager to help make your trip as smooth as possible.
Convenience and Safety
Given that the park closes at 5 PM, and considering the logistics of flights and potential delays, planning a trip to Iguazu Falls can be challenging. 01Argentina takes away the hassle by ensuring everything runs smoothly, allowing you to focus solely on enjoying your adventure.
Conclusion
Iguazu Falls is more than just a tourist attraction; it's a once-in-a-lifetime experience. By choosing to book your trip through 01Argentina, you're ensuring that this adventure will be as seamless and enjoyable as possible. The all-inclusive packages, attractive pricing, and highly personalized services make 01Argentina the go-to agency for anyone looking to witness the majesty of Iguazu Falls.
So, what are you waiting for? Discover the magic of Iguazu Falls with 01Argentina and create memories that will last a lifetime.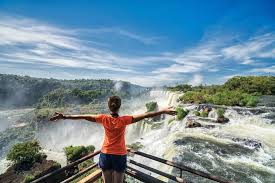 Visit 01Argentina for Iguazu Falls Packages
Added Perks
In addition to the main attractions and services, 01Argentina offers several other perks that can elevate your travel experience. For example, you may opt for a package that includes excursions to other notable spots in the region. Want to learn about the indigenous cultures of the area? Interested in exploring the rainforest? There's a package for that!
Expert Knowledge
The guides at 01Argentina are not just well-versed in the history and geography of Iguazu Falls; they're also experts on the local flora and fauna. Their insightful commentaries add a layer of depth to the experience that you might not get otherwise. You'll leave not just awe-struck but also more educated about this fascinating region.
Customization
Though there are standard packages available, 01Argentina understands that every traveler is different. That's why they offer the ability to customize your itinerary to suit your particular interests and needs. Whether you're a nature enthusiast, a thrill-seeker, or someone in between, 01Argentina has you covered.
Convenience from Start to Finish
From the moment you book your trip, 01Argentina provides timely and clear communication. They understand that travel, especially international travel, comes with its own set of challenges. They offer assistance every step of the way—from airport pickups to lodging suggestions in Buenos Aires if you plan to extend your stay in Argentina.
Beyond Iguazu
01Argentina isn't just about Iguazu Falls. The agency offers a plethora of travel opportunities across Argentina. From the sultry tango halls of Buenos Aires to the glacial beauty of Patagonia, 01Argentina can help you explore the country's diverse landscapes and cultures. By choosing to start your Argentine adventure with a trip to Iguazu Falls, you're opening the door to even more amazing experiences.
Final Thoughts
Iguazu Falls is undoubtedly one of the most stunning natural wonders in the world. But to truly maximize your experience, it's essential to choose the right travel agency. 01Argentina offers a balanced blend of all-inclusive packages, excellent prices, and highly personalized services, setting them apart as the ideal choice for your trip to this breathtaking destination.
So, don't just dream about the thunderous falls, tropical wildlife, and exhilarating activities that await you. Make it a reality by booking your Iguazu Falls adventure with 01Argentina today.