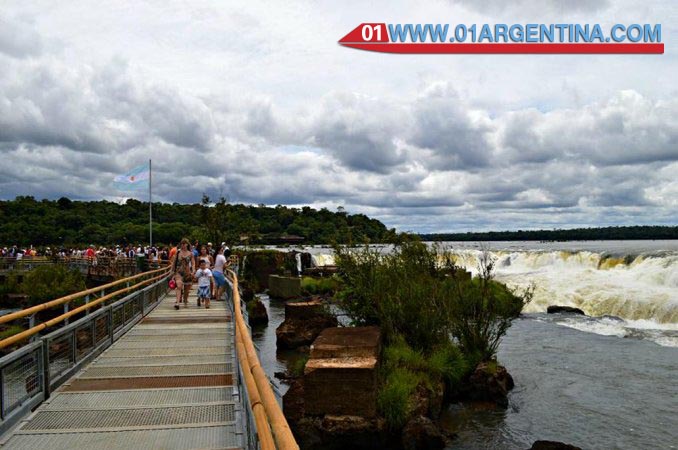 More than 11,000 tourists and toured the new circuits  in the Devil's Throat Iguazu Falls
The reforms were made after June this year the water flow exceeded 4 thousand cubic meters per second so it was necessary a security protocol.
The National Parks Administration, the government of the province of Misiones and the concessionaire Iguazu Falls Argentina reported that since the Devil's Throat Circuit reopened four days ago, and it was crossed by 11,350 tourists.
Related Note: Weekends 2014 traveled the country 11 million tourists
Recall that in June, due to rainfall in the basin of Iguazú, the flow is typically 1,500 cubic meters per second (m3 / s) in a few days exceeded 47,000 m3 / s, which was the largest flood of River in recorded history.
On June 8, when the flow exceeded 4,000 m3 / s was launched security protocol modules and gateways are disputed offered no resistance to the currents and damage to the foundation piles were avoided, but He had worked on the restoration of the same, recalled in a press release.
Del hundred modules comprising 1,200 meters of bridges 82 were swept downstream, then rebounded at low water for reassembling said Roberto Enriquez, head of Iguazu Argentina, the concessionaire that manages the daily task in the Iguazú National Park, who reconstructed the ride Garganta del Diablo.
For his part, President of the National Parks Administration, Carlos Corvalan; Minister of Tourism of Misiones, and Mayor Sergio Dobrusin Iguazu National Park, Sergio Bikauskas, both highlighted in the reopening of the circuit, "professionalism and commitment highlighted by the 45 employees affected by the work, which at 90 day achieved the restoration of the entire circuit. "
Thus again be running all the gateways available for tourist scenic Iguazu Falls National Park.
Where lunch to enjoy all day in iguazu falls
Jungle Restaurant
The Restaurant "La Selva" is located in the courtyard of services Area Iguazu Falls National Park, a few meters from the Central Station Rainforest Ecological Train.
Is larger dining establishment in the area, and a place of choice for holding events and special lunches, with capacity for 350 people.
It has specialized personnel in all areas and professionals with great experience in serving tourists from around the world. Our catering service mode "Self Service", auto service or can eat among other meanings, includes barbecue and homemade desserts. This service was designed to provide our guests a dynamic dining experience and the highest quality standards, processes backed by ISO 9001 quality certification.
The principal, attractive restaurant is your typical grill Argentina. It is one of the services most sought by visitors, in which we find all the typical Argentina cuts a good barbecue.
Our buffet offers 10 varieties of hot meals, 10 varieties of salads and a variety of desserts handmade.
Buffet
• Rice Provencal
• Chicken with potatoes
• meat pepper
• bean stew
• Stuffed Tomatoes
• Spaghetti oil
• ravioli in white sauce
• Broccoli cream
• Canelones.
• Soups station.
Grilled Argentina.
• Ribs
• Empty
• Achuras
• Chinchulines
• Grillé chicken
• Grilled chicken
• Sausages
• Sausage
• Grilled Steaks
Salads
• Russian
• From peas
• Lettuce & Tomato
• Chicken pickled
• Spring
• Cucumber and carrot
FREE DESSERTS
Cakes – Cakes – Puddings – Puddings – Fruit salad – Seasonal fruits – Mousse – Rice with milk – Duce sweet potato with cheese
We have the best variety in drinks, and our wine cellar includes the most recognized brands of domestic production.