The Iguazu falls are located on the Brazilian-Argentina border just a few miles from Paraguay. This is a system of 275 falls covering an area of 2.7 kilometers. However, this is a highly visited destination with visitors from different parts of the world coming to have fun in these beautiful natural attractive features. Here is a list of some of the great things you can do to enjoy your time in the Iguazu falls excursions;
Helicopter flights over the Iguazu falls in Argentina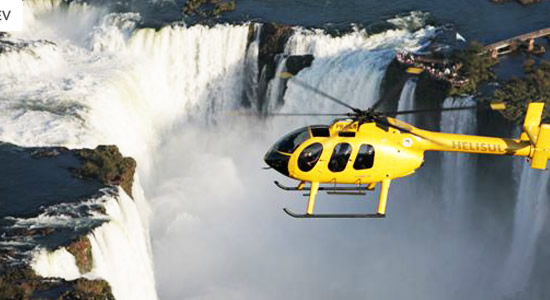 At the entrance of the Iguazu National Park, there is a point where the passengers book the helicopter. The helicopter carries only four passengers inclusive of the pilot whereby each passenger pays USD 40 for a whirl of about 10 minutes. Near the waterfalls, there is also another helicopter booking point.
Moonlight tour in Iguazu Falls
During the nights when the moon is full and unclouded, a bow of lustrous grey color is observed on top of the water. Visitors watch this beautiful scene from a viewpoint called Naipi, which has a panoramic lift to take you nearer to the gorgeous falls. There is also a fancy restaurant called La Selva in Argentina, which offers so tasty dishes and a 4-day accommodation for the visitors willing to stay longer enjoying the Lovely view of the Iguazu falls.
Visit the Itaipu Binacional
This is the biggest hydroelectric plant in the entire world handling eight reserves and sanctuaries in Paraguay and Brazil.
Boat riding in Iguazu Falls
This is a beautiful experience although you will become extremely wet on boat ride.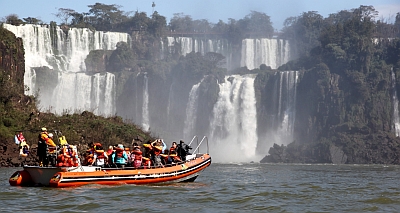 It includes a ride towards the source of a stream to the three musketeers fall. This is where everybody is splattered.
This boat carries a maximum of 25 travelers and each boat ride takes a period of close to 120 minutes.
Visit the Bird Park
This park is highly renowned for the butterfly house in it It was started in the year 1994 and it houses numerous types of birds and other animals. Some of the birds you can visit and catch a glimpse are; toucans, hummingbirds and macaws among others. You can also find other animals like; alligators, marmosets and anacondas. This park is a private business owned by Anna Croukamp and Dennis. Visiting the park is one of the best experiences in Iguazu falls as you get to see your favorite birds and wild animals.
Rafting and river trip
This is a transport in water by a raft and it usually takes 30 minutes. Travelers are moved from a boat to a raft. Travelers enjoy viewing the Iguazu waterfalls in this trip. It is really a lovely experience. For those who have not had enough of the view, there is another boat ride, which takes close to three and a half hours. This boat transports passengers towards the border of Iguazu River and Paraguay.
Visit the two circuits
These are the upper and lower circuits. In the lower circuit, you get panoramic views, swimming in the river, beach sunbathing as well as boat riding. The upper circuit gives you an opportunity to watch the edge of the waterfalls.
The Iguazu falls is e very beautiful destination for spending your holidays and have best times ever. You can visit and explore amazing places over there.
Author Bio:
Amelia Verona is a content writer from Cambridge, UK. She loves reading novels and also likes to travel and explore different places. She's been to US, South-East Europe and South Asia. She is fond of good food and writes reviews for various Restaurants and Hotels. She writes on behalf of Sri Lankan Visas which helps in visa assistance