Each tourist trains Argentina has its own charm and allows tourists to access places that can not be reached by any other means provided with all the necessary comfort to fully enjoy.
To enjoy an amazing piece of engineering on the Andes as the Train to the Clouds, small picturesque trains to traverse the jungle of Misiones
Ecological Jungle Train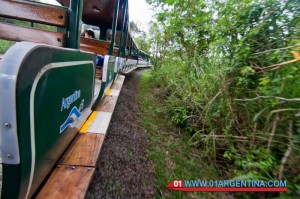 It is the means of transportation for visitors in the Iguazu falls area of ​​Iguazu National Park near Port Iguazú.
Gas powered , has a low environmental impact and transports tourists from Cantro Visitors to Iguazu falls Gorge Station and Station ( in full Garganta del Diablo ) .
It has a capacity between 120 to 150 passengers per training, and speed not exceeding 20 kilometers per hour. It also has in each of its cars access for disabled people.
Phones : Dealer of  Iguazu Falls National Park Area . Tel : ( 03757 ) 491466/67/69/70
Train to the Clouds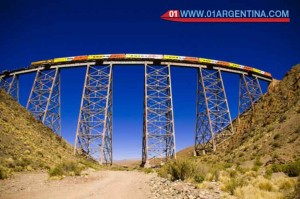 It is one of the highest railways in the world, across the high mountains of the Andes Mountains in beautiful landscapes.
Part of the city of Salta, passes through the Valle de Lerma , enters the Quebrada del Toro and finally reaches La Puna.
The final point is 1350 km where the viaduct Polvorilla 224 meters long and 63 high. It is the highest of the entire line of the convoy, at 4200 masl and one of the most important in the world for its features.
The train runs almost fifteen hours round trip , crossing 29 bridges, 21 tunnels, 13 viaducts, 2 "rollers " and 2 zig – zags . Due to their height , clouds are often seen under bridges or on the slopes , hence its name.
The train has services such as car, panoramic car, folkloric shows , doctor's office , audio , video and bilingual guides.
Departures: Every Saturday . Telephone : (0387) 4314984 In Buenos Aires . (011 ) 4311-2019 .
Tourist Train Entrerriano Central Railways: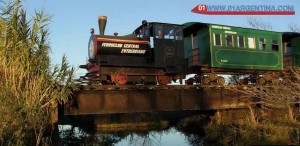 A ride on a vintage train picturesque
Entrerriano Central Railroad train takes a stroll through the historic village of Entre Rios: Villa Elisa – Homemade, Villa Elisa – Arroyo Baru. During the journey you can see beautiful scenery and learn the history of the region as among the landscapes of plains and blades reaches the Palacio San José, the famous residence where General Urquiza alive.
The railway line was built in late December 1905. Then the branch was abandoned in 1980 and recently restored and maintained by the Central Ferroclub Entrerriano. Their wagons were rebuilt retaining the style of the time.
Travel: Villa Elisa – Homemade, Villa Elisa – Arroyo Baru.
Item: Villa Elisa (30 km from the city of Colon)
Destination: San Jose Palacio and Arroyo Baru.
Capacity: 44 passengers