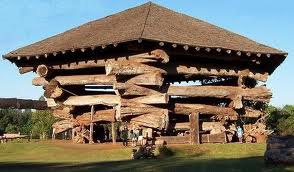 The Aripuca Tourist Complex is located on the outskirts of the city of Puerto Iguazú , Misiones ( Argentina ) . It has a replica of a aripuca (artisanal trap less than one meter ) giant , which was made with salvaged logs timely and tardándose nine years to build .
The Aripuca is a kind of theme park visitors try to raise awareness about the effects that the indiscriminate felling of trees and care for the environment , and shows how it was made ​​sometime missionary jungle.
The place also has other activities that can be performed in addition to visiting the Big aripuca , for example, there are indigenous by selling regional products , tools and other things that are usually bought by tourists.
The Aripuca is an Agro -Eco- Turistico family business built with the purpose of :
• Raise awareness about the natural resources we have and their importance
• Encourage actions to preserve and promote environmental stewardship
• Disseminate the culture , beliefs and traditions of the region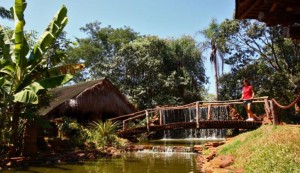 Built at the base of trees rescued from illegal timber trade and inspired in a typical trap the Guarani peoples felling, " " The Aripuca wins with its 17 meters high and more than 500,000 Kgs of weight distributed in 30 native species Jungle Missionary , many ancient trees , grouped to show WHAT wE ARE LOSING as from the lack of interest and concern for the care of our environment , we will be victims of our own trap.
Entering the monument can watch each of the logs , learning from direct contact, a little more about the Missionary Selva and its main protagonists.
THE ORIGINAL TRAP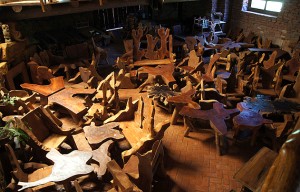 The original trap , widely used even today by the Guarani people , is composed of small twigs together in a pyramid connected to a very simple but effective mechanism , where upon entering the prey to the trap and step on one of the branches of the mechanism, it is closed trapping the animal. The most unique feature of this trap and capture means is that the dam does not suffer any damage to be captured , and yet , most importantly allows the capture release if it considers that it is not appropriate ( it is very small , it is a dam is pregnant or unfit for consumption ) .
Considering this was built Aripuca , trying to explain that we are walking into the trap , but there is still a chance to survive.
THE ORIGIN OF LOGS
While the trunks are used to protected species and in some cases endangered because of deforestation and logging, NONE of the trees used in construction WAS CUT FOR THIS PURPOSE.
Many of the trees were purchased in sawmills where they were about to become planks and go, along with its history, furniture and other applications. Other recovered from farms where they had been felled by storms or were dead standing by the action of lightning or because they had already served their lifecycle.
In this way , we try to transform a total or partial destruction of the tree as a tool to raise awareness.