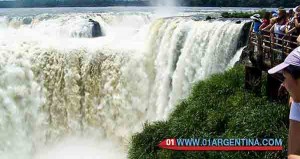 The Iguazu River recorded a sustained low throughout the basin so that the entrance to Iguazu National Park was reopened. Authorities of the National Parks Administration (APN) and the Ministry of Tourism of Misiones reported that walking the catwalks Lower and Upper circuits are able to transit visitors, although it closed the Garganta del Diablo. In addition, Pedestrian and 4 × 4 trails many walks, sailing excursions and the Ecological Jungle Train rehabilitated.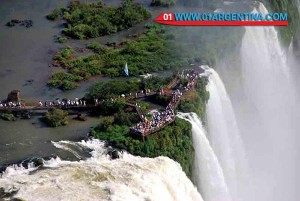 While tourists could enter this time did not see the Garganta del Diablo, on the other waterfalls could appreciate a similar to the biggest jump of the falls happened in times normales.Aunque flood peak of the Iguazu River scene with 46 thousand cubic meters per second (m3 / s) last Monday, the flow rate is now about 18 billion approximately, more than 10 times higher than normal, which is 1,500 m3 / s, according to the Ministry of Tourism Mission.
A few days ago: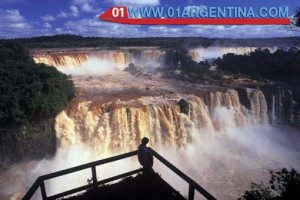 Rains across the Iguazú basin, located mostly in Brazil caused the unusual flooding of the Iguazu River, which increased its normal flow of 1,500 cubic meters per second to more than 40,000 by forcing park officials to close all circuits and tasks rebatimiento of modular gateways that extend over a mile on the Iguazu River to prevent its destruction by resistance to the force of water began.
The flow reached a trademark before ever arriving this afternoon to 45,700 cubic meters per second, when the usual is 1500, officials of National Parks. According to estimates of the flow rate is increased almost 30 times.
Last year was a close shortly before the winter season, but the maximum flow rate was 19,000 m3/s.Desde measurements began the movement in the basin of the Falls, the highest mark recorded was during the floods of 1992, 36,000 m3 / s, about 10,000 less than the current measure.
About the effect works up new gateways to install a gazebo on the island San Martin, admitted that the water could be sections of wooden planks and some structures of the work, but not piles or gateways already installed.
By now you must wait out the peak of the flood waters recede and to assess all the consequences and actions to be taken. Therefore, the date on which finally re-enabled all circuits is still unknown.