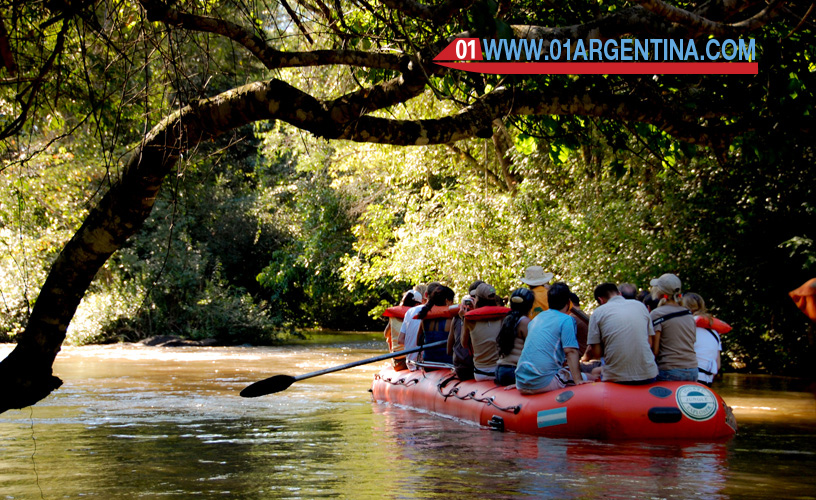 If you are thinking in visit the Iguazu Falls you should consider taking a tour including also Ecological activities in Puerto Iguazu.
Becuase the Iguazú town in Misiones province will offer many attractions for you to go and meet the province. In addition to the imposing and magnificent spectacle that give you the Falls, Misiones also offers a different place where you can fully enjoy and interact with nature: La Reserva Fortin Yabotí.
Everything is possible in the city of Puerto Iguazu because its stunning scenery, leading to ecotourism, is also listed as suitable for adventure tourism, and also is crossed by Aboriginal customs and techniques that make it suitable for cultural tours. incomparable beauty, risk and adrenaline, nature and serenity, this space mission is able to withstand any qualifying adjective flattering and yet, none is sufficient to describe it.
For adventure lovers is inexhaustible supply in this geographical area where the wild nature makes you feel the adrenaline at its best to get deep into the Selva Paranaense. Trekking through jungle paths observing the fauna and flora of the area; cliffs scaled by more than 20 meters high; rappelling down rock walls of 25 meters; water rides, rafting and floated by the Iguazu River; are some of the options that are left to the level of risk that each visitor is encouraged to face.
Jasy Porá, mbya village open
Has its own stable craft fair, organized walks through virgin forest and intercultural school is known.
Around Puerto Iguazu still remains a Guaraní community living in brotherhood and following the way of life inherited from their elders. For some time the village Mbya Josy Porá can visit in order to better understand their beliefs, their relationship with nature and their rites, in which revere Ñanderu, its creator.
To do this, we came to a property located in the Yriapú jungle, inside which we find this aboriginal reserve. We were greeted by one of its representatives and led us down a path to a paranaense mountain of native species.
While he was reeled stories and legends of his tribe heard their elders and transmitted to new generations; including its millenary secrets of hunting and survival strategies. We did some questions about their relationship with the land, sky and their gods; the answers were very helpful in our view white man.
The main source of income is the sale of handicrafts, especially the baskets woven from plant fibers. Wood carvings made with animal figures, and necklaces and bracelets made with seeds.
A group of children offered several songs from his choral repertoire while doing some rudimentary percussion instruments. Then, they accompanied our tour with joy making themselves questions about our origin.
We had the opportunity to try their typical, rich in flavor foods. We are adding new tastes to our palate and met the mbeyú reviro, two dishes that are based on different sources flour, fat, salt and sugar added in the second one.
We feel that discussions with the members of these families Guarani showed us another, more natural, simple and serene approach to life. We rescued his desire to regain traditions and protect their identity and language. Somehow, all this was a learning experience we will not forget.
The Biocentro Iguazu
A new and very different place all that is known in watching wildlife was installed a few years ago in Puerto Iguazu. Baptized "Biocentro" worth knowing.
The city of Puerto Iguazu, gateway to one of the Wonders of the World (Iguazu), it has a place designed to raise awareness among visitors about the preservation of the environment. Conceived as the first Biocentro, this place offers a choice between Iguazu attractions: gives relevance to the natural content of the area and provides a space for reflection on the care of the environment in general.
Patricia Duran Vaca, the owner, is who made his way to carry out this "natural theme park" which is located at the entrance to the city, between the national route 12 and the famous San Vicente Street, where for years they began to installed major chains prestigious hotels.
Just pass the entrance to begin to appreciate some of the flora and fauna that has this jungle region: local flowers, snakes, alligators and even a large crocodile brought from Missouri, United States, named Coco.
The first thing visitors is passing Garden. an important collection of orchids, among other native and exotic species are crossed and then reaches a butterfly garden where the same butterflies that look for all these landscapes can be seen.
The trails invite you to walk and to have contact with the different species that live there: turtles from the famous Galapagos Islands, iguanas Caribbean with fish, birds and reptiles contribute their part to the visitor learn about each of these species, brightful colors and different behaviors.
Most animals were acquired by a donation made by Dr. Alejandro Vogt, a renowned scientist in the city of Oberá, who long nursed these animals while conducting scientific and academic research. Today, Vogt living in Puerto Iguazu and is the technical responsible for their care.
The place is now open for tourism. You need only approach to Km 5 Route 12 to understand what it is. There, Coco and his friends await visitors anxious.