Things to do from Puerto Iguazu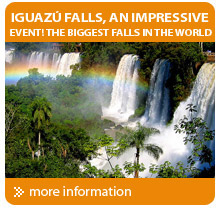 Puerto Iguazu is famous for being the closet town to visit the amazing Iguazu Falls, anyway this magical place of Latin America offers other attractions to see and visit apart of the Iguazu Falls and National Parks. Below we describe in this article 2 alternative tours to take during your vacation package in Iguazu. These places are ideal to visit for those passengers staying more than 3 nights in Iguazu Falls. I mean, of course on day 1 you have to visit the Brazilian side of the Iguazu Falls, on day 2 it is a must a visit to the Argentine side of the Iguazu Falls but if you remain longer than 3 days in Iguazu you may take any of the following options:
The Aripuca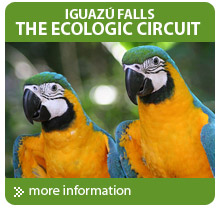 La Aripuca is a recreational, educational and ecological resort whose proposal focuses in a gigantic and dazzling Aripuca built with huge centenarian trunks. In its actual existence, an Aripuca is a trap used by the Guarani people to hunt small animals without hurting them. In turn, this symbolic Aripuca aims catch the conscience of the visitors by showing the majesty of the trees more than 300 years that constitute it and the need to protect nature.
In the grounds there are also a typical hut Guarani culture, where tourists can buy some of these fascinating aboriginal handicrafts produced by theirself. Tourist can also be in contact with the Guarani Indians. In the resort there is as well a Tacuru building built on different types stones of the terrain of Misiones, where exhibit and sell products from each region of Argentina, and original spaces where you can have a refreshing drink or enjoy spectacular parties, all in close contact with nature, inspired by nature itself and built in his honor.
The Aripuca is the perfect opportunity to sponsor a tree and thus help protect these specimens that purify our air and more.
It stands on Provincial Highway No. 12, about fifteen minutes from Iguazu Falls.

Aboriginal Villages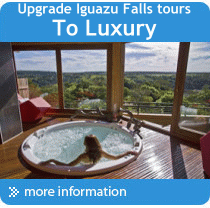 Visits to Aboriginal communities and Yriapú Mbororé mean a unique experience for those who decide to do them. There, you can see the look of accomplishment and purchased all kinds of crafts, among which carvings, necklaces, baskets, as well as many charming creations of the Guarani. Another exciting options of these visits is to explore the jungle on a tour of open path.
Culture, tradition and nature, everything is interesting in these visits to indigenous villages, where tourists are welcomed with pleasure and joy.