The stand of the Ministry of Tourism of Misiones is highlighted in Tourism Festival Iguazu Falls (in the Brazilian city of Foz do Iguaçu), in a show that brought together some 700 exhibitors and received delegations from around the host country, of Argentina, Paraguay, Peru and Uruguay.
"We came to this first participation in this festival with the Jesuit experience and proposals of the center and south of Mission, to invite the Brazilian public to know us with all our potential and not just from the proposals we have in the borders," said provincial Tourism Minister, Horacio Blodek, who led the delegation Argentina.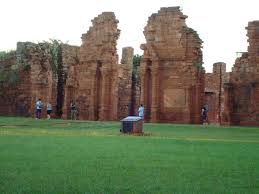 "We support the impact that produced the election of Pope Francisco, the first Argentine and Latin American first, who is also a Jesuit, to show one of our strengths that are the remnants of the Jesuit towns in Misiones and are part of our attractions. Our stand has the imprint Jesuit without neglecting the other strengths of Destiny Quests and Missions Experience "he said.
The Secretaries of Marketing and Promotion, Jorge Posdeley, and Strategic Management, Sergio Dobrusin, accompanied the missionary delegation showed its potential in this Tourism Festival in southern Brazil.
The philosophy that inspired sets stand up to the Jesuit who has the province of Misiones, emphasizing the potential for reductions in San Ignacio and his show of image and sound, as well as the first theme park, the Cross of Santa Ana, and Posadas, a city of services and tourists redistribution center.
The fair, which began on the 12th and ends today, takes place on the outskirts of the city, in the Convention Center of Bella Italia. Parallel to the exhibition, takes place the Business Forum and International Tourism Round.
At the opening, President of the Festival, Paul Angeli, noted that consolidates Forum "as a major academic tourism events in Brazil, driven by growth itself that holds the Festival every year," he said.
The Fair has tourism officials of the Federal Government of Brazil, authorities nationwide area, deputies, mayors, travel agents and operators, press and industry professionals of tourism in Brazil and other Latin American countries, as well as officials from Argentina and Paraguay.