Amerian Iguazu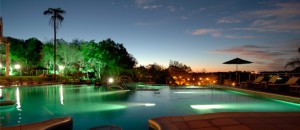 the luxury hotels in Iguazu Falls Amerian Iguazu is located in a strategic location just 100 meters from the Three Frontiers Landmark , with the best view of the union of the Iguazu and Parana Rivers . Amerian Portal del Iguazu Hotel invites you to discover the Misiones rainforest next to " Selva Viva " , a theme park that is located a few meters from the hotel, where guests , adults and children can enjoy their two runs . Mirador de Aves, Ant Station , Butterfly , Spider 's dwelling and many more attractions await you during the day. At night the tour becomes a visual spectacle of light and sound , projected on large screens in the bush. Within the Amerian find the yvy Mara ` and Spa Inspired by the Guarani culture , offers a variety of treatments based on indigenous raw materials of Misiones jungle , like the scents and essences that can be enjoyed on site. A jacuzzi, a modern tatami , armchairs , music and candles. all in harmony with a fantastic view of the Iguazu and Parana rivers , is the ideal combination for a perfect ending water circuit . Temple Rain and Mud Experiencing the feeling of a tropical rain or a bucket shower , experience the benefits of the mud and thermal relaxation of the easy chairs . Beauty Cabinet Hairdresser salon , hair removal and skin treatments disposable . Cabinet Massage and Body Treatments Be pampered by expert hands . in a unique environment , with details and scents of the jungle missionary , with organic products specially created for our guests. Gym It features modern cardio equipment multifunction. Vibrating platform . Pilates classes with instructor. recreation Guaranteed fun for the children and relaxation guaranteed for parents. A qualified team of trained personnel to interact with children proposing a variety of creative and educational games (focusing on education for the care of the environment) .
Recreation spaces are safe and are adapted for different ages, available 365 days a year. Restaurant "La Mission " Elegantly styled with decorative details and indigenous theme . Here you can enjoy an excellent gastronomic experience with international and regional dishes , as well as a range of international cocktail drinks . Breakfast hours of 6-10 pm. Barbecue " De los Rios " Located opposite the hotel pools , in a pleasant outdoor Argentino offers a typical atmosphere where you can enjoy the best grilled and the stake , plus dishes , accompanied by a wonderful view of the confluence of two rivers and three countries meet . Bar Panambí Its name means butterfly in the Guarani language . It has a magnificent view towards the confluence of the Iguazu and Parana rivers . Malena Bar His style and decor reflect the culture of tango and Buenos Aires typical bar . The space features a spacious living room with 42-inch TV .
LOI SUITES IGUAZU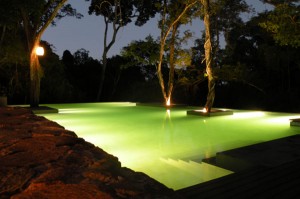 The Loi Suites Iguazu 5 star hotel is in the middle of the subtropical forest just 5 minutes Iryapú cataract , was built with utmost respect for nature, trees were preserved native vegetation integrating all project development. SPA NEW BEAUTY TREATMENTS , RELAXING AND NUTRITIONAL
" Herbs of Mount " Body Exfoliation then super relaxing massage with oil formulated with 31 herbs, anti stress – restorative effect , ideal for dry and cracked .. Duration : 50 minutes
" Heat of the Earth" Body Mask based on kaolin and warm compresses. Ideal for treating cellulite , fat deposits and eliminate skin blemishes . Duration : 50 minutes " Yerbaterapia " Body peeling with yerba mate in the area, more draining clay wrap with relaxing massage . Duration : 50 minutes Restaurant Naipi An amazing view of the jungle , leads us to the best dishes with proper identification , homemade , indigenous and international . Here you can enjoy the best food and traditional desserts.
Tiki Bar Forest , Recreation and Gastronomy . These elements are combined in the Tiki Bar, to offer a variety of pizzas , salads , sandwiches and endless options .
Sheraton Iguazu Resort & Spa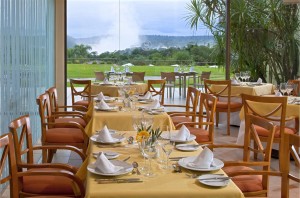 Located yards from Niagara Falls, right in the National Park on the Argentine side offers spectacular views of one of the wonders of the world and completely comfortable allowing you to awaken in the heart of a lush jungle . Within walking distance of Niagara Falls. The Sheraton Iguazu is the only hotel within the national park with a unique proximity to Niagara inigualabales views . Its imposing Sunsilk Pool & Spa invites you to relax after an intense day of adventure and action, in their tents and spacious outdoor areas zen, and draw on the energy and harmony that conveys this natural oasis in the middle of the jungle.
This hotel features luxurious decor and features 2 pools , spa facilities and a casino. It also offers tennis courts, live shows and rooms with jacuzzi and free Wi -Fi. Iguazu Falls are a 10 minute drive from the hotel, which offers free private parking. Exclusive guests Iguazu Grand Resort Spa & Casino , 5 star , can work out in the gym and enjoy a massage or beauty treatment. The rooms are decorated in French style furniture , elegant draped curtains and carpeted floors . They have air conditioning , a seating area , minibar and balcony with panoramic views of the garden. In the breakfast room , overlooking the pool , serves a full buffet breakfast daily at tropical fruit and other delicacies. The restaurant offers specialties Cafe Magic Chef and live entertainment in an elegant amphitheater with bar service . The Grand Iguazu babysitting services , a ping pong table, a Playstation and children's activities at the pool. There is also an ATM and a gift shop . It also has a shuttle service to Iguazu Airport . Tancredo Neves Bridge is located 5 km . Restaurants A variety of dining options are combined with cultural traditions and delicious local produce , including sweet fruits, the best barbecue Argentina and fish.
In our restaurant , Garganta del Diablo , the views are as spectacular as the food . Enjoy international cuisine with local specialties buffet style , plus live music in an elegant setting .
The spacious terrace of our Lobby Bar is the perfect place to connect with nature thanks to the amazing view of the falls and their wonderful cocktails , light meals and pastries. Or stay inside and enjoy the last game in the 42 "TV .